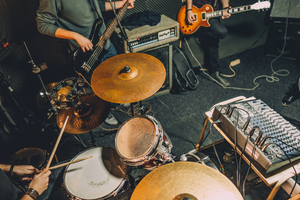 Rock & Pop Bands, Jazz Bands & Ensembles Oh My!
Only $99 for PCAA Students
Unleash the Music Within at Pickering Creative Artists Academy!
Hey Music Lovers! Are you ready to hit the right note? Pickering Creative Artists Academy is thrilled to introduce our BRAND NEW Band and Ensemble Classes that will take your music experience to the next level! Whether you're in grades 3-5, 6-8, 9-12, or an adult, PCAA has the perfect group for you! 
Strum, beat, or blow your way through a wide array of music styles! Our bands and ensembles are the gateway to unlocking your musical potential. From rock bands that'll get your feet tapping, to jazz ensembles that'll send shivers down your spine - PCAA offers it all! 
Age Group Magic! 
Say goodbye to stage fright!  Our bands and ensembles are meticulously built with age-appropriate mixes to make sure everyone feels like a rock star! This unique setup fosters a supportive environment, where you can learn, grow, and jam with peers who share the same passion.  
Benefits Beyond Belief! 
Social Skills: Collaborate and create lasting friendships!  
Confidence: Own the stage and conquer the world! 
Creativity: Develop your unique musical voice!  
Discipline: Hone your craft through dedication!  
Weekly Rehearsals & Abundant Performances! 
Mark your calendars!  Our band and ensemble rehearsals are scheduled once a week for an immersive 90 minute session. This is your time to shine, refine, and align your musical talents. Plus, with numerous performance opportunities, you'll be center stage in no time! 
Special Offer for Current PCAA Members!  
Best news yet - if you're a current PCAA member, you can add a band to your existing classes or lessons for ONLY $99 per month! It's time to embrace the full spectrum of musical adventure that awaits you! 
Don't miss out on this incredible opportunity to unleash your inner maestro at Pickering Creative Artists Academy!  Sign up today and get ready to make beautiful music together.