What is Pickering Voices?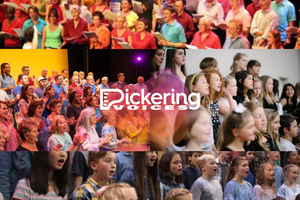 PICKERING VOICES: OUR PREMIER ADULT CHOIR | AGES 18+
Pickering Voices offers adults (and teenagers 18 and older) the chance to sing pop, rock, and other fun songs without the need to audition, read music or have any previous singing experience.  
The music ranges from songs you grew up with to those you and your kids love today. There is zero pressure. All it requires is a love for music and having fun! Pickering Voices is more than a choir – it's a musical community, a creative, social, and inclusive space. 
Find your voice. Make new friends. Participate in something fun and meaningful. Registration is open and rehearsals begin in January. 
NO AUDITIONS  
Please join us for a free rehearsal session any time. We welcome any and all new members, regardless of musical experience; there are no auditions whatsoever.
Monthly Fee: Only $99 + $35 Registration Fee
What are the Payment methods? 
You can pay for the session by credit card when you register.
What do the fees cover? 
The fees cover the costs of paying the professional Choir Leaders; accompanists, rehearsal space, performance venues; music, performing licenses for all the songs that we use; copyright fees to the publishers; recording of backing tracks; maintenance of our website; business taxes, liability insurance and other administrative costs and general expenses incurred in the day to day running of a business. 
Do you offer discount/scholarships? 
While we don't yet have a scholarship program in place. We do offer a PCAA Student Discount rate for currently enrolled families. 
Will I get a refund if I don't attend all the sessions in the term? 
We are happy to offer refunds minus a $30.00 administrative fee if you decide you are unable to attend the session after the first rehearsal. After that, with the exception of personal or family health emergencies, we do not offer refunds. Refunds are only provided in cases of medical emergencies, family care situations, or loss of job, and will be pro-rated as fairly as possible. 
Pickering Voices is our original adult pop choir. We welcome everyone, whether you're a seasoned singer or have never performed in your life and just really want to sing and have fun! 
Rehearsal cycles typically run for ten to twelve weeks and culminate in a performance at the end of the session. 
The goal of Pickering Voices is to build community, and we provide several social opportunities outside of rehearsal for our members to get to know each other. We also strive to help our community through charity and several outreach performances each year.
Our Directors Michael & Amy Pickering
Pickering Voices Rehearsals